As it is still quite toasty out, and it looks like it may continue to be all week, we thought it'd be great to highlight a fun cool down activity each day! And since I was reminded of this great idea right after I posted yesterday's blog, I thought it would be great to mention today!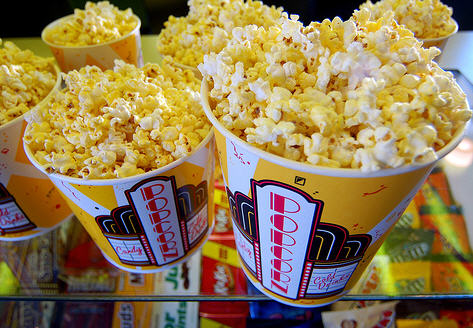 Photo courtesy of the fatlossauthority.com...
just get a small :)

Go see a movie! Not only are theaters notoriously chilly, but you'll also get to see one of Hollywood's latest hits and have something to talk about with your friends at lunch!
Some of the movies out in local theatres now are:
Cars 2

Larry Crowne

Midnight in Paris

Zoo Keeper

Harry Potter and the Deathly Hallows- Part 2

Transformers: Dark of the Moon

Winnie the Pooh
Movie costs to pricey?



Check out

Movieland 8 Theatre

in Cheektowaga! It's very affordable and they have great popcorn and drink deals!
OR
Check out your local grocery store! They often have movie passes available at the Customer Service desk for cheaper then you'll pay at your favorite theaters.
Don't want to drive all the way to the theater just for a movie? Visit your local mall's theater and make a day of it! Shopping, eating, and a movie? That's my idea of a perfect evening.

As always, stay safe in the heat! And be sure to share your favorite cool down activities with us so your fellow WNYers can beat the heat!
For tips on how to stay safe in all the heat,

click here

!

To read yesterday's cool down tips,

click here

!